Eastern Ukraine in a no–so distant, post-apocalyptic, postwar future: the country has become an inhospitable desert. Former soldier Sergey, who suffers from post-traumatic stress disorder, finds it difficult to adapt to the new reality and to see his homeland lying in ruins. One day he decides to join a group of volunteers who take care of exhuming the bodies of soldiers from the rubble mountains. There he meets Katya and a better future suddenly seems possible.
This beautifully lensed parable sheds a bleak, apocalyptic light on the disastrous impact of the war between Ukraine and Russia on the Donbas.
The film premiered at the 2019 Venice Film Festival, won the Venice Horizons Award for Best Film and was Ukraine's official selection for the 2021 Academy Awards.
---
---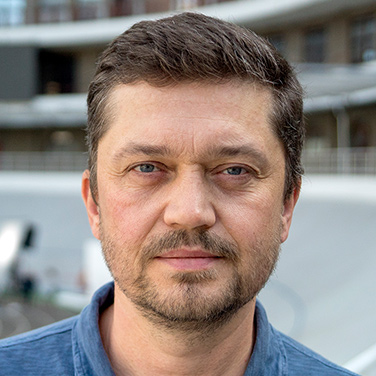 Valentyn Vasyanovych
The prolific Ukrainian director, producer and DoP was born in 1971 in Zhytomyr, western Ukraine. Valentyn Vasyanovych made his directorial debut in 2012, with Business as Usual his first full length feature film (Odessa IFF, Special Jury Mention, FICC Award). In 2014, the documentary Crepuscule (Prymersk) earned him the top award at the Odessa Film Festival. He also worked as a producer and DoP on Myroslav Slaboshpytskiy's The Tribe, which became Ukraine's biggest international success with more than 40 awards including Cannes' Grand Prix. Atlantis is his 5th film as a director.
---