When Helena learns that her terminally ill ex-husband decided to stop his treatment her first thought goes to their son – how to best share their last few remaining weeks? This and a diehard love for filmmaking prompt Helena to embark on an unpremeditated documentary journey – one that would take the Italian-born Berlinerin from recording the life-teachings of a dying man to his children to a more simple, poignant farewell gesture: capturing on film the daily life of Bruno as the 45-old musician is gradually slipping away, surrounded by his family at his Kreuzberg home.
Hiding behind her camera, Giuffrida films away: rythmed by domestic routine, meals with friends and family, medical protocols and funeral arrangements, life unfolds with Bruno at its centrefold. There are the ups – Bruno is a man who boldly and wittily, at times brashly, embraces death; and there are the downs – the pain and strain, the repressed tears. But overall it's life the camera records. Giuffrida intuitively finds the right distance between affectionate empathy and the kind of pathos one could fear from a film about dying man – "the ex-wife" approach, she likes to joke. The result has the elegance of grave complicated things – like the demise of a loved one – made as light and simple as unbearably natural death can be.
Join Helena Giuffrida for a Q&A about her taboo-free approach to death and the personal journey that brought her from film to funerals, and her current dedication to dead bodies as a professional mortician and the manager of one of Berlin's most endearing funeral homes.
---
---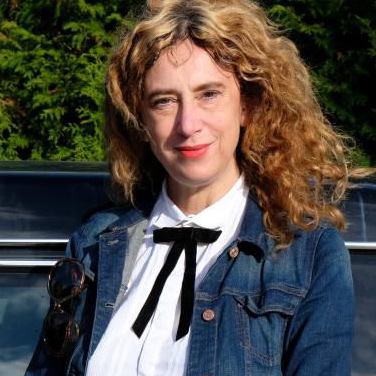 Helena Guiffrida
Helena Guiffrida was born in Milan in 1969 to German-Sicilian parents. Fascinated by "the Wall and the bunkers", she moved to Berlin in 1988, where she jobbed as a nude model and in the film industry. She met the Australian musician Bruno Adams in 1991 and gave birth to their son Conrad two years later. Divorced in 2001, Giuffrida worked as a barmaid and a professional cook. "So Glad I Did" is her second and last documentary, before she decided to train as a film prosthetic/make-up artist first, then an embalmer and funeral assistant. She started her first funeral home in 2021. Since 2022 she's performed 50 funerals as a managing director of Magnolia Funerals.
---