The famous Ukrainian filmmaker turns to black absurdist comedy to comment the violence that erupted in the Donbas(s) in the mid-2010s.
In 13 vignettes, Loznitsa depicts a region gone haywire, as human decency falls apart in the chaos of conflict, corruption and outright idiocy that prevades in the zone occupied by the pro-Russian separatists, backed by Putin's government. It's a reality beyond tragedy, beyond farce, and to cite Varlam Shalamov "a reflection in the concave mirror of the underground world. The plot is unimaginable and yet real; it really exists and is right next to us."
The film was selected as the opening film in the Un Certain Regard section at the 2018 Cannes Film Festival and awarded with the Prize for Best Director.
Donbass was originally released in Germany in 2018, but last year's Russian invasion brought it back to the Kinos for a short spell, and prompted its first proper US release in April 2022.
---
---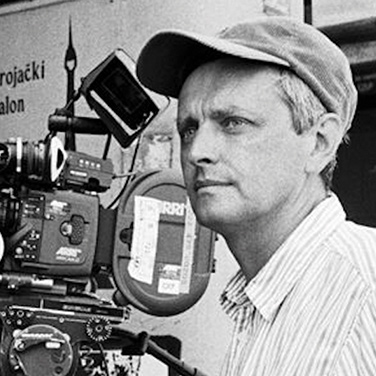 Sergei Loznitsa
Born in Soviet Belarus, Sergei Loznitsa grew up in Kyiv, studied in Russia and now lives in Berlin. Following a short career in applied mathematics and cybernetics, Loznitsa studied film at the Russian State Institute of Cinematography (VGIK) in Moscow. The prolific filmmaker made a few feature films, among which In the Fog (2012) and A Gentle Creature (2017).
But it's for his documentaries that he's best known – over 20 total. Daring and thought-provoking, they deal with the Soviet past, his country's politics (Maidan), or war, like his two most recent: the footage-based Natural History of Destruction inspired by W.G. Sebald's book and about the use of civilian killing as a weapon of war, and Babi Yar. Context about the forgotten massacre of 33,771 Jews on the outskirts of Kyiv by a Nazi Sonderkommando and auxiliary Ukrainian forces in September 1941.
---